Why do you Exercise?
Posted on 17 May 2016 by peakadmin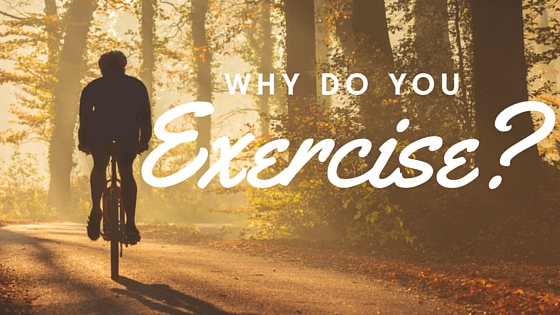 Why Do You Exercise?
The answer to this question may depend on your stage in life. For example, in my 20's I exercised/trained to get faster. Competing in triathlons and cycling (road and mountain) with men, I was constantly trying to beat my last time, increase my distance or keep up with the boys! During both of my pregnancies I exercised and introduced Clinical Pilates to keep my body strong and physically able to cope with pregnancy, childbirth and raising a child. When my kids were babies I loved my prams so much (I only just parted with them a few months ago and my kids are now 6 and 7 years old!) because they gave me the freedom to exercise with my kids. It enabled me to get out of the house, into the fresh air and to run or walk as much as I liked and the kids were happy.
During another phase in my life, a challenging couple of years, exercise was my sanity saver. I honestly don't know how I would have coped without exercise, I may have spiralled into depression, I may have given up on helping my son,  I may have lost my optimistic attitude – who knows? But when I felt completely overwhelmed, downtrodden, and literally beaten up by my son I would put on my running shoes as soon as my husband walked in the door of an evening and run as fast as I could for 5kms. At the end of that run my Wonder Woman super powers would return and I knew I could cope with anything life threw at me – and I did. Big problems became tiny problems and solutions were found.
Now in my late 30's I exercise because I get grumpy and miss it if I don't! I exercise for the social connection, the numerous health benefits, how it makes me feel and for the time it gives me just for "me". It's high on my list of values, I still love the challenge of entering and training for an event, it enables me to be a healthy role model for my kids and it delivers me a functional body that can do some pretty cool stuff. For example; a couple of weeks ago we camped at Pt Leo beach and I had a surf lesson. I spent 2 hours paddling around, catching waves, standing up, balancing and riding waves and I absolutely loved it! The next morning I went for an 8km run on the sand along the shoreline, it was the most magical morning and experience. The weekend before I'd spent both days (after having exercised in the mornings) picking up, carting and stacking about 6 cubic metres of fire wood. Not exactly fun, but a great example of how my body, because I exercise and keep it strong, allows me to do that sort of stuff!
I love seeing the work we all do in the gym being applied to the real word. I love the way my gym deadlifts & farmers carries enabled me to pick up my full wheel barrow load. I love the way mountain climbers & burpees allowed me to be able to quickly jump to my feet on the surfboard and my gym core work enabled me to balance on the board (even if it was only for a few seconds!). I love the way my gym cardio fitness allowed me to have a euphoric running experience along a pristine beach.
So getting back to the original question – why do YOU exercise?
It's important to get clear on your "why". I encourage you to think beyond weight loss and fitting into your skinny jeans and think about all the other amazing benefits exercise brings to your body and life. There are endless reasons to move your body and keep it strong. Some benefits are physical and some are mental, some are seen and some unseen.  Ultimately, exercise makes life better. Knowing why you exercise may be just what gets you out the door next time when you can't be stuffed and are making a million excuses as to why you shouldn't!
Danielle Grant
Accredited Exercise Physiologist and Wellness Coach
danielle@peakpt.com.au